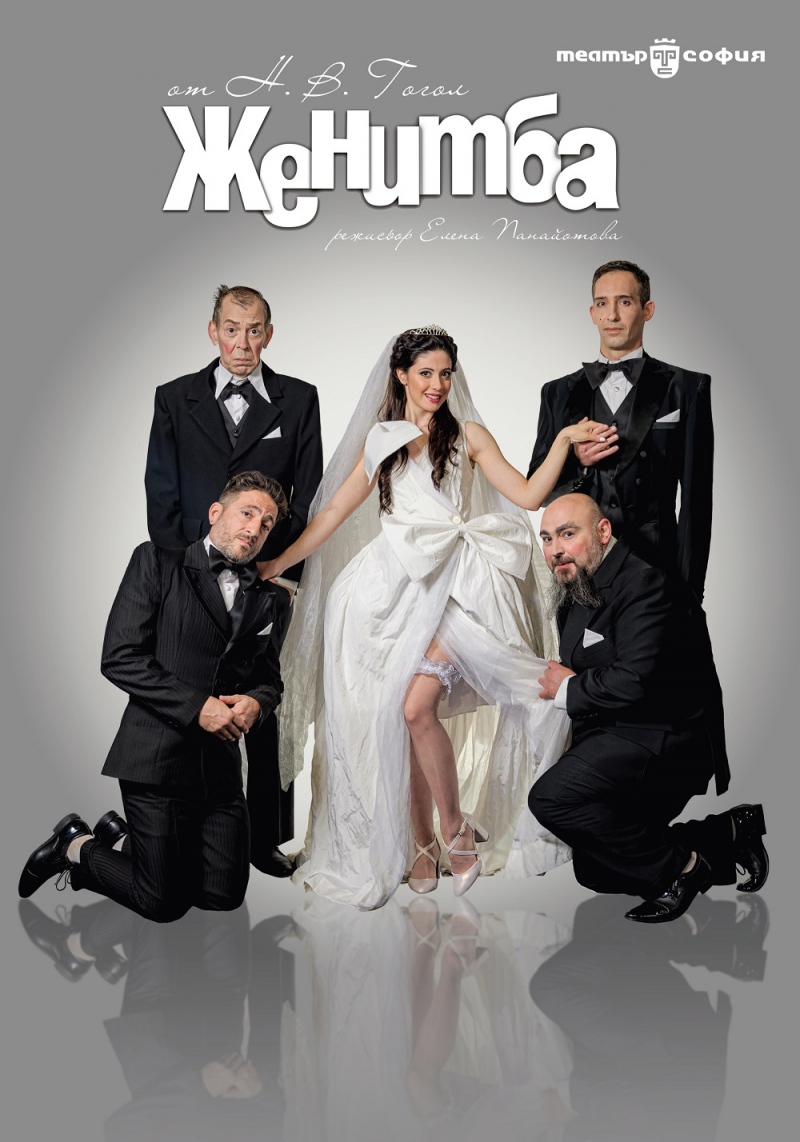 from N.V. Gogol
Creative team:
Director: Elena Panajotova
Set and costumes: Nikolina Kostova Bogdanova
Composer: Hristo Namliev
Choreography: Rosen Mihajlov
Translation: Hristo Radevski
Cast:
Joanna-Isabella Varbanova
,
Nevena Kaludova
,
Yulian Malinov
,
Julian Rachkov
,
Mikhail Milchev
,
Nikolay Varbanov
,
Rosen Belov
,
Simona Halacheva
,
Lora Mutisheva
,
Nikolay Dimitrov
Duration:
105 min
Premiere:
12th of May 2017
Annotation:
The team working on this show discovered extremely up-to-date and contemporary characters and situations behind Gogol's words, written over a century and a half ago. The subject of the play has caused turbulent disputes among us, different points of view for and / or against marriage, the meaning of marriage and the meaning of choice. Lost in our own fears, we have lost our senses to notice other people, and that makes falling in love impossible.
And when our heroes came to life, a fairytale was born, but not for love. A tale of choice, about the ability of a person to choose a partner for life. A comedy about a world in which there are always matchmakers who skillfully manage the "market" of lonely men and women and scoff at us with their incredible ingenuity. A story about the "little" people who do not dare to dream, and trapped in public prejudices, only with hopes to marry them to save them from their loneliness.
Gogol heroes are always throw themselves to hope when it appears but give up a moment before they reach it because they do not believe they deserve to be happy. And this is the story of the "little" man who does not know when and where on his way has dropped the key to his own happiness. Probably when marriage has become a lottery game and it has completely lost control of dreams. So, our "Marriage" turned out to be a satirical - terrible tale for us. For a society in which a person continues to suffer from so many fears: from choice, from expectation, from how he will be accepted. That's why this tale is a little funny and a little sad because it tells us about the man's inability to share. What if?
Elena Panayotova - Director
« back
Address theater:
23A Yanko Sakazov bul, Sofia
Ticket office:
+3592/944 24 85
Work time:
Monday - Friday
10:00 - 14:00
15:00 - 20:15
Saturday and Sunday
10:00 - 13:00
13:30 - 20:15