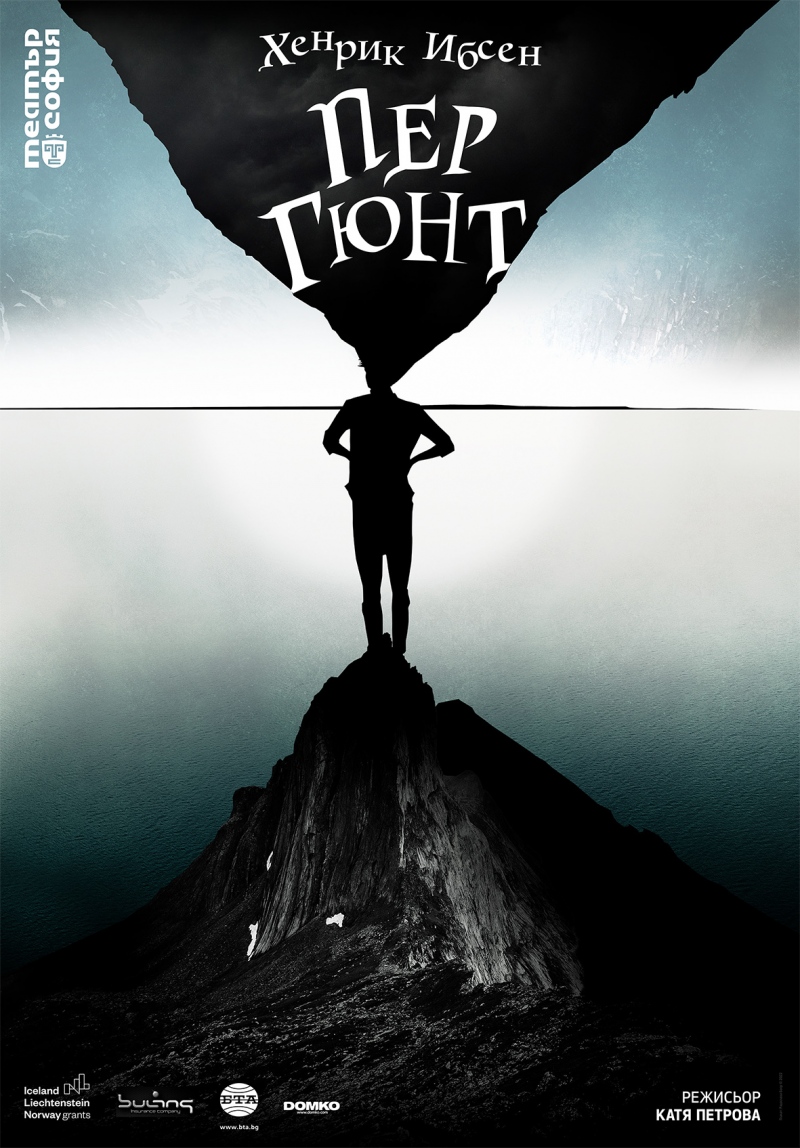 from Henrik Ibsen
Creative team:
Translation: Stela Dzhelepova
Director: Katya Petrova
Set and costumes: Boris Dalchev
Set and costumes: Mihaela Dobreva
Choreography: Anna Pampulova
Composer: Hristo Jocov
: Momchil Aleksiev
Poster: Radoslava Boor
Sound design: Svetlozar Georgiev
Photographer: Ivan Donchev
Cast:
Alexandar Tonev
,
Iriney Konstantinov
,
Joanna-Isabella Varbanova
,
Lora Mutisheva
,
Mikhail Milchev
,
Nevena Kaludova
,
Neda Spasova
,
Nikolay Varbanov
,
Nikolay Dimitrov
,
Plamen Manasiev
,
Eleonora Ivanova
,
Julian Rachkov
,
Anton Dimitrachkov
,
Emiliya Toncheva
,
Ralitza Neykova
,
Aleksandar Gotchev
Duration:
150 min, with intermission
Annotation:
"Peer Gynt" by Ibsen is a wild spectacle, with extreme, leading to explosion, to demonicity, states of the characters. A play about the search of a life path, about the meaning of life, about destiny's choice, about the primordial struggle of the soul. Peer Gynt, all of his life, wants to be а hero, and wants to win, to be "an emperor with a thousand courtiers". Trollism is his philosophy, and it is related to the consumer's view of obtaining immediate satisfaction of all needs and desires, everything to happen here and now.
Adaptation – this is what excites the world nowadays.
Peer is a hero of modernity. In a certain way, he is like all those people who are moving around the world today, looking for prosperity and wanting to take their share of the wealth from the developed societies. Peer declares himself as a citizen of the world and wants to rule it.
In our global, highly material, hedonistic society, where conformism and the double standard have taken precedence over the spiritual, we, in our everyday life, meet others like Peer, trolls, mystics and manipulators.
At the end of his life, Peer Gynt must be held accountable for everything, which has been done.
Peer Gynt is the engine of the plot and the character's actions. Two actors play the role, not only because of the formal biological changes, but also because of the semantic transformations of the personality.
We are trying to create a spectacle with a strong energy field and combine it with speech, plastic and mapping. Through mapping we not only create the vision of the performance, but also develop the narrative construction and enrich the dramatic meaning.
Enjoy watching!
- Katya Petrova
*"Peer Gynt" is implemented under the project "Peer Gynt Travels" and a grant agreement under the PA14 program "Cultural Entrepreneurship, Heritage and Cooperation", funded by the Financial Mechanism of the European Economic Area 2014-2021; Norwegian Financial Mechanism.
https://www.eeagrants.bg/en/
The Centre for Ibsen Studies provides an active multidisciplinary research environment and has a number of ongoing international research projects. "hey explore Ibsen's texts from a variety of theoretical approaches, as well Ibsen's life and the global reception, adaptation and performance of his works.
« back
Address theater:
23A Yanko Sakazov bul, Sofia
Ticket office:
+3592/944 24 85
Work time:
Monday - Friday
10:00 - 14:00
15:00 - 20:15
Saturday and Sunday
10:00 - 13:00
13:30 - 20:15