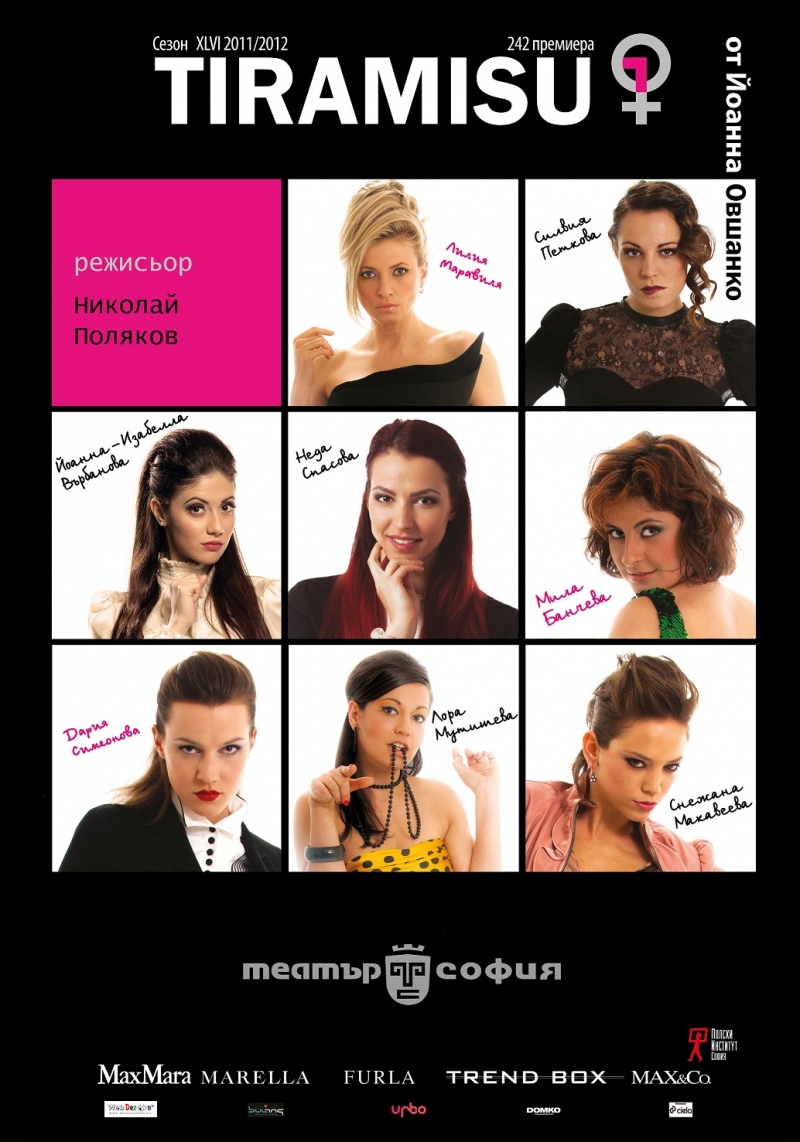 from Joanna Ovshanko
Creative team:
Director: Nikolaj Polyakov
Scenography: Ognyana Serafimova
Translation: Mariana Minkovska
Author: Stovarzisenie Autorov
Cast:
Lilia Maraviglia
,
Silvia Petkova
,
Joanna-Isabella Varbanova
,
Mila Bancheva
,
Neda Spasova
,
Daria Simeonova
,
Snezhana Makaveeva
,
Lora Mutisheva
Duration:
120 min
Premiere:
23rd of April 2012
Annotation:
Joanna Ovshanko was born in 1974. For now, there is only one play - "Tiramisu", which was first staged at the Drama Laboratory / Studio Bufo in Warsaw in 2005 with director Aldona Figura and is played with great success until today. The play is the result of Ovshanko's personal experiences as an advertising agent - she worked for three years in a powerful agency and knows this new modern way of life.
It reveals in an interesting way the virtual reality that tries to replace people's personal lives, tastes and preferences. Seven young, successful, strong and beautiful women lead their battle for success in society as the viewers witness their most intimate experiences, empathize with the clash of personality and the imposed social rules for success, realization, norms of happiness.
The director Nikolay Polyakov - master of the analytical interpretation of classical and contemporary texts in tandem with the young but already established set designer Ognyana Serafimova / Icarus 2012 nomination / trusts seven young and talented actresses - Lilia Maravilla, Lora Mutisheva / Mila Banche Isabella Varbanova, Silvia Petkova, Daria Simeonova, Luiza Grigorova / Neda Spasova and Snezhana Makaveeva, who will reveal the interesting stories of their heroines, will enchant with their beauty and excite with unexpected intimate experiences and will surely serve the sweet and tart taste of the name of the play and the production.
*The play has english subtitles.
« back
Address theater:
23A Yanko Sakazov bul, Sofia
Ticket office:
+3592/944 24 85
Work time:
Monday - Friday
10:00 - 14:00
15:00 - 20:15
Saturday and Sunday
10:00 - 13:00
13:30 - 20:15